Dividend Income Portfolio Template for Apple Numbers
Easily track the performance of your stock portfolio in Apple Numbers.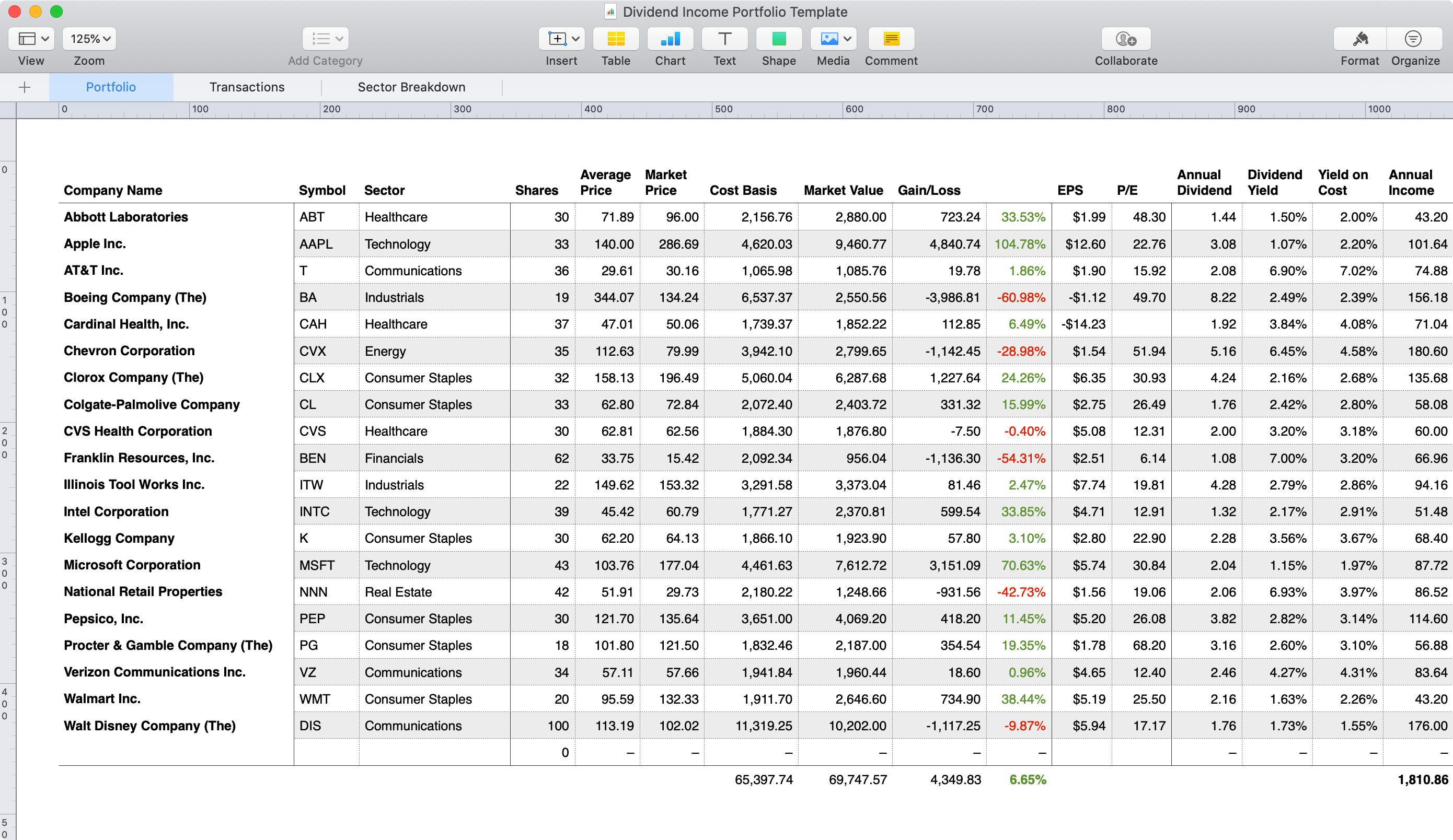 How it works
This spreadsheet for the Apple Numbers app uses the STOCK function to retrieve stock information from the internet. Simply enter your transactions into the Transactions sheet, then add the symbol to the Portfolio sheet.
The spreadsheet automatically calculates the total amount invested, value, capital gains and losses, and annual dividend income for the portfolio. Additionally, the following values are calculated for each position:
Average Price – Your average share price for the specified stock.
Market Price – The share price of the specified stock at the market close of the previous market day.
Cost Basis – The total amount originally invested, plus any commissions or fees involved in the purchase.
Market Value – The market value of the position.
Gain/Loss – Unrealized capital gains and losses for the position.
EPS – Earnings per share. Calculated as a company's total earnings divided by the number of outstanding shares (the stock currently held by all its shareholders).
P/E – The price/earnings ratio. Calculated by dividing the stock's current market price by the trailing 12-month earnings per share.
Annual Dividend – The yearly dividend (cash payout) amount per share.
Dividend Yield – The ratio of the stock's annual dividend (cash payout) per share as a percentage of the share price.
Yield on Cost – A measure of dividend yield calculated by dividing a stock's current dividend by the price initially paid for that stock.
Annual Income – The annual dividend income (cash payout) for the position.
Projected Price – The one-year target price estimate, which is the median target price as forecast by analysts covering the stock.
Projected Market Value – The projected market value, based on the median one-year target price as forecast by analysts covering the stock.
Sector Breakdown – Percent and amount invested by market sector.
FAQs
Does it work on the Numbers app for iPad and iPhone?
Yes.
How often are the calulations updated?
In the Numbers for Mac 4.2 update, Apple changed the STOCK and CURRENCY functions to return data from the previous market day's close.
Is there a version for Google Sheets available?
Yes. Visit the product page for more information.
Is there a version for Microsoft Excel available?
Sign up for my mailing list to be notified when it's available.
Download
The template can be purchased for $6.99. The template is available for download immediately after completing your purchase. Click the Buy Now button to continue.
Disclaimer: All data and information is provided "as is" for personal informational purposes only, and is not intended for trading purposes or advice. Please consult your broker or financial representative to verify pricing before executing any trade. Steven Westmoreland, LLC, (A) expressly disclaims the accuracy, adequacy, or completeness of any data and (B) shall not be liable for any errors, omissions or other defects in, delays or interruptions in such data, or for any actions taken in reliance thereon.